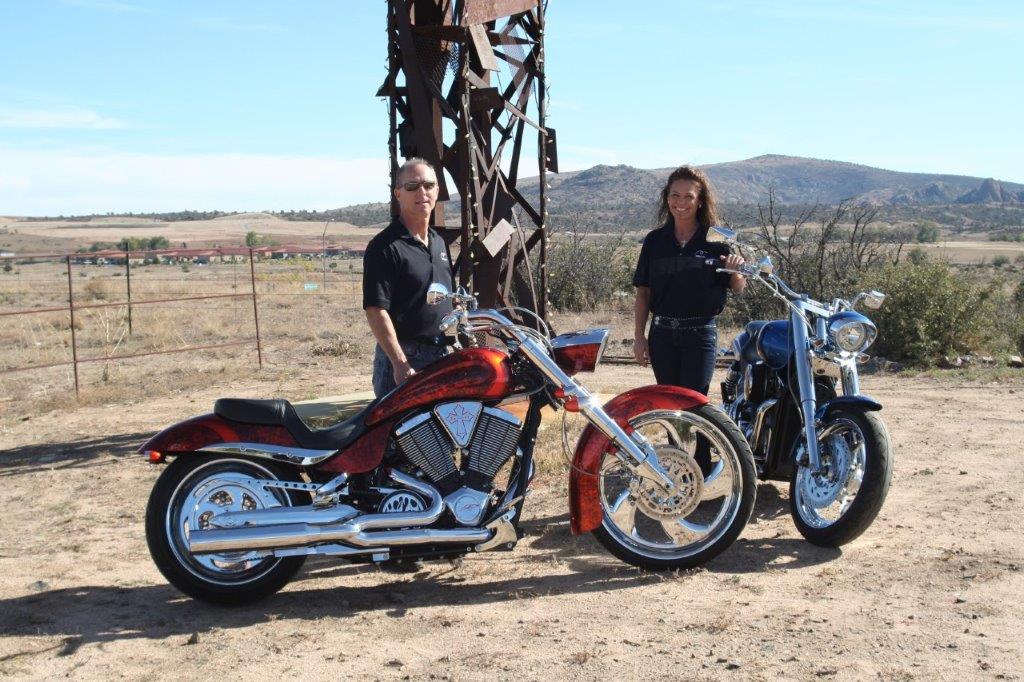 Meet the new owners
Hello everyone!
We are super excited for this opportunity and feel honored to carry on Dennis' legacy in Top Down Products and the motorcycle industry.   As he is exiting TDP for retirement, we are ramping up!
Bristemy Engineering has manufactured parts for Dennis since 2012, and we have always admired his reputation and product line. We will continue to offer that same great customer service as you have been known to expect. Don't be concerned with this transition, Dennis has been generous with his time and knowledge and has agreed to be just a call away when we need his expertise.
We have been blessed with a successful business manufacturing parts for the Harley Davidson and the overarching motorcycle industry since our beginning in 2005. We take the contribution we make to that industry seriously and place quality and customer service as priority one.
We are here and ready to serve you! As you will see in our "SHOP," we have been busy manufacturing products and are already stocked up on front and rear axle covers, ready to be shipped!
Please let us know if you have any questions, we are only an email or phone call away. We look forward to hearing from you and please let your friends and all riders know that the legacy of Top Down Products lives on!
Please send all inquiries to [email protected]
As always, be safe on the road and enjoy the ride.
Sincerely,
Steve and Vergie Ryker
Prescott, Arizona
Top Down Products started in 2009, by founder Dennis Sauro, as a result of an unmet need in the motorcycle aftermarket parts industry. When confronted with the issue of getting a personal motorcycle through Pennsylvania inspection due to having vertical side mounted license plate, the wheels of innovation started turning. On the ride home, ideas started to flow about how a license plate mount could be designed that allowed someone to reposition a license plate from vertical to horizontal and back again without the need for tools. The concept, of the now Roto-Plate, was born and within months kick started Top Down Products and the first product was on the market months later in May 2009.
With Dennis having a career in various roles of product design and leading product design teams, he always had a mind toward thinking outside of the box about new and better ways to solve common problems. Phrases like "it would be better if… or "imagine if…" is often heard coming from Dennis. Coming up with unique and novel solutions is part of his DNA.
With Dennis having years of training and experience to develop the knowledge and abilities to brainstorm an idea, design in 3D Computer-Aided Design (CAD) software and then produce a physical model, whether handmade, machined or 3D printed was completely within his own mind and hands. Dennis has the unique ability to develop a product concept, design virtually, build a prototype, test, learn, redesign until the design is the best it can be. Dennis firmly believes, "Designs need to be robust, esthetically pleasing and have an image of high quality but most importantly, build to last." It is said by Dennis that his designs are ready "when I can have an emotional response…that WOW moment or feeling about a design…now it's ready".
Top Down Products strives and continues to listen to the voice of the consumer to gain invaluable insight of gaps in the market as identified from the end user's perspective and to bring those products to market and to fill the unmet need. We truly enjoy meeting and collaborating with attendees at Rally's or another sponsored event as well as online or over the phone. Many of our products are a direct result of input, insight, and unmet needs from people we have met as well as from our own experiences as motorcycle riders as well.
What's the meaning behind the name "Top Down"?
"Top-Down" describes a process of designing a product from the top (a vision of the final product) than working through the details to get to that final vision. Designs that follow this process are more likely to keep the original vision intact with less compromises.
The alternate method of design is "Bottom-Up". This is where many smaller ideas or parts are pieced together to form the final product. Unfortunately, with the "Bottom-Up" process, a design may or may not capture the final product vision. Although many take the "Bottom-Up" approach because of its perceived simplicity, this process often takes longer, is more costly and, in many cases, does not meet the "final vision".